Apply to the Summer Education Workshop
Registration for IRRPP's 2023 Summer Education Workshop is closed. 
Please check back in 2024 for the dates for our next Summer Education Workshop.
Dates: TBD
Time: TBD
We would like all educators to attend SEW.
The cost to attend the Summer Education Workshop (SEW) is $400 per person. If you are registering as a team (2 or more people), the cost is discounted to $300 per person.
The overall cost of attendance of the 4-day workshop (28 hours of professional development) represents our commitment to this work and does not reflect the total cost of the week.
We would love for organizations, schools, education spaces, or school districts to pay for professional development costs to cover the workshop registration. However, if your organization, school, education space, or school district does not cover professional development costs, educators may be able to use our scholarship funds to offset the cost of attendance. No one will be turned away for lack of funds.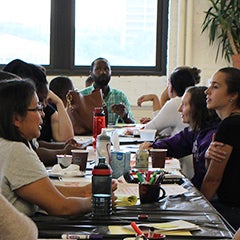 Registration cost:

$400 (individual)
$300 per person on a team (2 participants from one organization/school)

Scholarship cost:

$100 (individual)
$100 per person on a team (2 participants from one organization/school)
Information on when the 2022 SEW registration will open Heading link
If you have any questions, please email us at irrpp@uic.edu.
If you are applying as a team, we ask that one team member take the lead and register all participants in that team. To ensure a smooth registration experience, please have the names and emails of all the people on your team ready to include in the application. If you need to add a team member once you have completed the registration process, please check your confirmation email for directions for how to do so or email us at irrpp@uic.edu.