Research Projects
In addition to funding the work of UIC faculty conducting research on racial and ethnic inequities, and our State of Racial Justice in Chicago reports, IRRPP also has undertaken research projects to analyze racial dynamics at the request of community partners or in partnership with other UIC units. When doing so, we create a team of area experts who work closely with the project partners to undertake the research and produce a report that creates greater knowledge about racial inequities and outlines policies that can help close those inequities.
CTU CPS REACH Report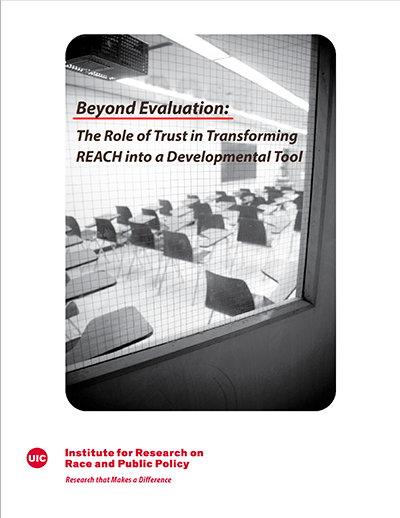 In 2012, Chicago Public Schools (CPS) implemented a broad teacher evaluation system, Recognizing Educators Advancing Chicago's Students (REACH), aimed at improving the level of instruction students receive. Recent analysis of patterns in REACH scores found statistically significant variation in teachers' scores across schools and between teachers of different races (Jiang & Sporte, 2016). However, these racial disparities in teacher REACH observational ratings were not found in schools reporting high trust between administrators and teachers. IRRPP was approached by CPS and the Chicago Teachers Union to undertake a study of schools with high trust between principals and teachers. This report is the culmination of our year-long study examining how school personnel created a climate of trust and the effect of strong administrator and teacher relationships for instructional performance and REACH evaluations.
The Latino Neighborhoods Report: Issues and Prospects for Chicago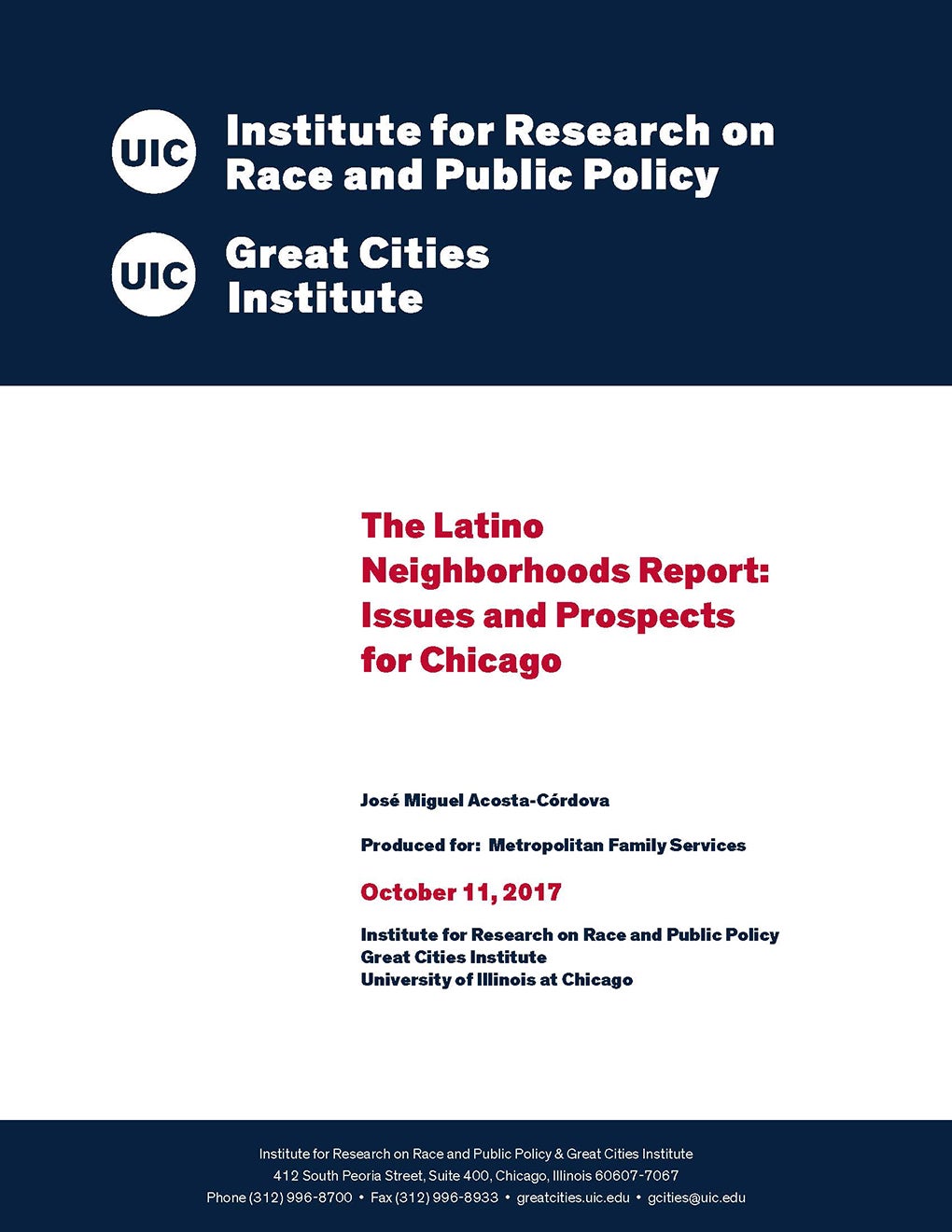 The Latino Neighborhoods Report: Issues and Prospects for Chicago presents demographic characteristics of Latinos in Chicago, examines the neighborhoods in Chicago with a majority Latino population, and finds that opportunities and services for Latinos are not keeping up with the population's growth.
In 2016, there were 2,099,428 Latinos in the Chicagoland area with 803,476 in the City of Chicago (2016 American Community Survey).1 Despite their longevity in the region, their large numbers, and increasing awareness of their presence, there is limited in-depth public policy discussion of the successes and range of issues facing the Latino community. This report aims to initiate this broader and more holistic discussion by analyzing a set of indicators of the status of Latinos in the Chicago region.
Press Coverage of the Latino Neighborhoods Report
Press Coverage of the Latino Neighborhoods Report

Charting Chicago's Latinx Population

South Side Weekly | November 22, 2017

"The Latino Neighborhoods Report" examines income levels, employment opportunities, homeownership rates, and health insurance coverage in each of the twelve community areas; most notably, it finds that education rates among Chicago's Latinx communities lag well behind their Black and white counterparts.
 

Cash-strapped undocumented immigrants in Chicago flock to free community colleges

USA Today | October 24, 2017

More than two years after Chicago launched a program that offers a swath of high school students a free ride at its community colleges, city officials are touting their growing list of students moving on to four-year universities with two years of college credit and not a dollar in debt.
 

WGN | October 23, 2017

Jose Acosta, author of The Latino Neighborhoods Report: Issues and Prospects for Chicago, joins WGN's Adelante Chicago to discuss the release of the report.
 

City's Latino Neighborhoods: Population Up, Challenges Persist, Report Says

DNA Info | October 13, 2017

Chicago's Hispanic population is surging, and while the ethnic or racial group faces many quality-of-life challenges, it has also seen some successes, according to a new report.
 

As Latino Population Grows, City Leaders Take Stock of Its Needs

Chicago Magazine | October 12, 2017

As Chicago's Latino population grows (it recently surpassed blacks as the largest minority group in the city), politicians need to focus on the evolving needs and distribution of that group, according to a new study released by the University of Illinois at Chicago.
 

Latino Aldermen Seek Improved Services In Hispanic Neighborhoods

CBS Chicago | October 11, 2017

The city's Latino aldermen said Wednesday a new study shows there must be a re-thinking of resources and services available to people in Hispanic neighborhoods.