Annual Phillip J. Bowman Lecture
The Bowman Lecture on Race, Ethnicity, and Public Policy is an annual lecture by a nationally recognized scholar of race, ethnicity, and public policy or a panel of scholars who provide timely analysis of issues of racial equity and justice that are critical to the field and to communities of color.  This lecture has been established to honor Phillip J. Bowman's contributions to UIC during his tenure as Director of IRRPP and Professor of African American Studies.
Bowman Lectures are free and open to the public.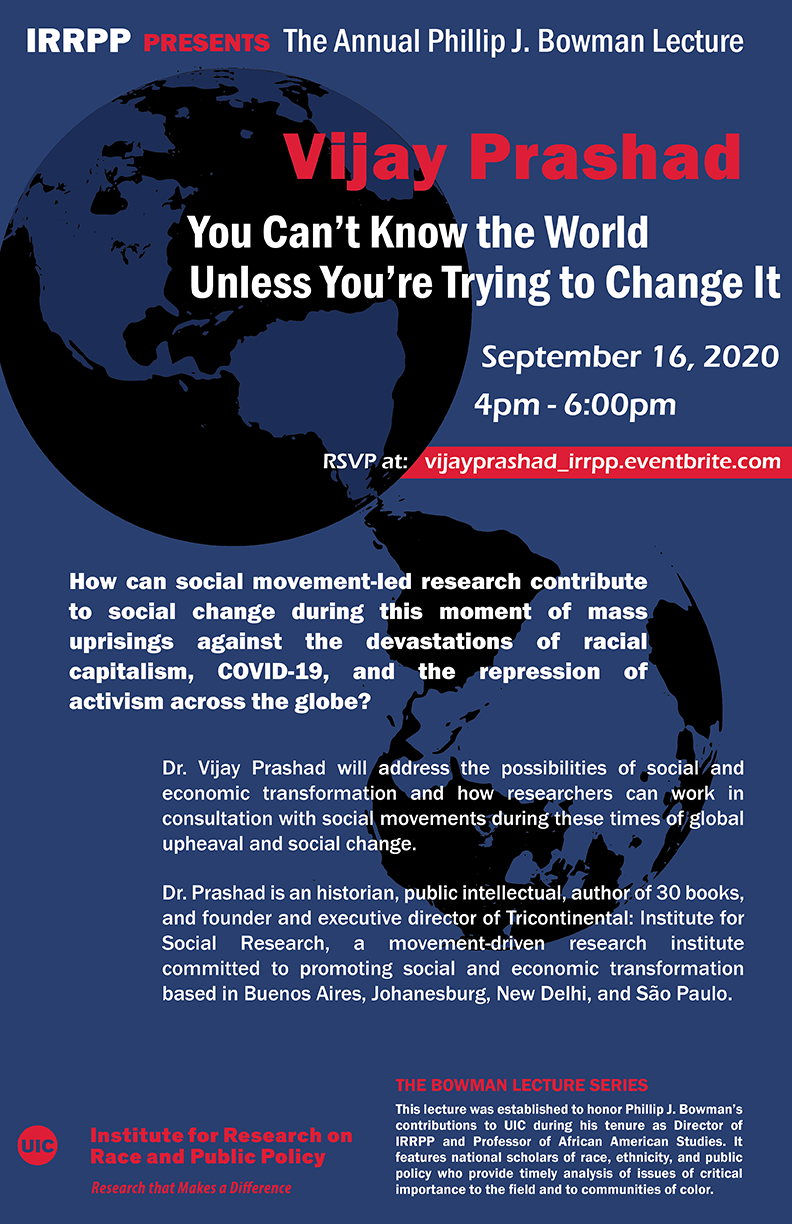 Vijay Prashad: You Can't Know the World Unless You're Trying to Change It
In the U.S., the killing of Ahmaud Arbery, Breonna Taylor, and George Floyd reignited racial justice and abolitionist movements that have been met with state repression. Across the globe, movements to occupy land from South Africa to Brazil and movements to end military occupations from Palestine to Crimea face uncertain futures.
The 2020-2021 Bowman Lecture speaker was Dr. Vijay Prashad who will address the possibilities of social and economic transformation and how researchers can work in consultation with social movements during these times of global upheaval and social change.
Dr. Prashad is an historian, public intellectual, author of 30 books, and founder and executive director of Tricontinental: Institute for Social Research, a movement-driven research institute committed to promoting social and economic transformation based in Buenos Aires, Johanesburg, New Delhi, and São Paulo.
The event will include an introduction by graduate students Ash Stephens (Criminology, Law and Justice) and Themal Ellawala (Anthropology) who have been organizing an Abolition campaign along with others at UIC. After Dr. Prashad's talk, Dr. Elizabeth Todd-Breland (History) will provide remarks as a discussant.
This free event was geared towards scholars, students, local communities and activists.
Due to the Coronavirus Pandemic, the April 2020 Bowman Lecture was cancelled and we hope to reschedule this event in the future. The scheduled event was to be a panel discussion with experts, educators, and practitioners working in diverse efforts across the city to use data to transform Chicago's criminal legal system. Panelists were to discuss their work related to ending the Chicago Gang Database, overseeing the Chicago Police Department, journalism related to police conduct, and how data is being used to change sentencing practices in Cook County.

Panelists were to have been Janae Bonsu, Organizer, Scholar & former BYP100 National Co-Director & National Public Policy Chair, Andy Clarno, Coordinator of the Policing in Chicago Research Group and Associate Professor of Sociology & Black Studies at UIC, Joe Ferguson, Inspector General for the City of Chicago, Jamie Kalven, Executive Director of the Invisible Institute, Matthew Saniie, Chief Data Officer for Cook County State's Attorney's Office, Beth Richie, Professor of Criminology, Law and Justice & Black Studies at UIC (Discussant), Phillip Bowman, Director of the Diversity Research and Policy Program and Professor of Higher Education at the University of Michigan (Moderator)

The 2019 Bowman Lecture consisted of a panel of speakers who presented their vision and roadmaps for how Chicago Public Schools can achieve greater racial justice. Each engaged with what it means to demand the impossible in education, starting with the need to understand the world as it is and then commit to collective actions to build a new world. The interconnection of demands around education to demands around housing, health, economic, and criminal justice was a common theme as they addressed how we can find greater racial justice in our public education system and society at large.

Panelists were Bill Ayers, UIC Educator and Education Activist, Eve Ewing, University of Chicago School of Social Service Administration, Erica Meiners, Education & Women's and Gender Studies at Northeastern Illinois University, Isaura Pulido, Educational Inquiry and Curriculum Studies at Northeastern Illinois University, Dave Stovall, African American Studies & Criminology, Law and Justice at UIC, and Elizabeth Todd-Breland, History at UIC.

For a webcast of this event, please follow this link. Our thanks to CAN TV for broadcasting this event.

The 2018 Bowman Lecture speaker was Mary Pattillo, the Harold Washington Professor of Sociology and African American Studies at Northwestern University. For her Bowman lecture, Dr. Pattillo discussed Chicago's black population decline and its roots in a racial history and public policies that have been detrimental to black Chicagoans even as the city remains a center of black life, joy, and creativity.

For a webcast of this event, please follow this link. Our thanks to CAN TV for broadcasting this event.

The 2017 Bowman Lecture speaker was William Darity Jr., the Samuel DuBois Cook Distinguished Professor of Public Policy at Duke University. For his Bowman lecture, Dr. Darity drew on the critical research from his book, From Here to Equality (co-authored with Kristen Mullen). The talk addressed the importance of a program of reparations for black Americans that can achieve the goals of acknowledgement, redress, and closure after the grievous injustices that occurred in the US after slavery.

For a webcast of this event, please follow this link. Our thanks to CAN TV for broadcasting this event.

The 2017 Bowman Lecture speaker was Eduardo Bonilla-Silva, the James B. Duke Distinguished Professor of Sociology at Duke University. For his Bowman lecture, Dr.Bonilla-Silva discussed the institutional role of diversity in the university and how the diversity agenda feeds the mythology that we are a color-blind society that leaves us less capable of addressing the reality that racism remains a collective, structural phenomenon that is fundamentally about racial domination.

The 2015 Bowman Lecture speaker was Professor Dorothy Roberts, the fourteenth Penn Integrates Knowledge Professor, George A. Weiss University Professor, and the inaugural Raymond Pace and Sadie Tanner Mossell Alexander Professor of Civil Rights at University of Pennsylvania. An acclaimed scholar of race, gender, and the law, Dr. Roberts spoke about her latest book, Fatal Invention: How Science, Politics, and Big Business Re-create Race in the Twenty-first Century, which examines how the myth of biological concept of race—revived by purportedly cutting-edge science, race-specific drugs, genetic testing, and DNA databases—continues to undermine a just society and promote inequality in a supposedly "post-racial" era.

The 2014 Bowman Lecture speaker, Charles J. Ogletree, Jr. is the Harvard Law School Jesse Climenko Professor of Law and Founding and Executive Director of the Charles Hamilton Houston Institute for Race and Justice. Dr. Ogletree's lecture focused on his lifetime of national and international research and legal work to create a more just legal system that will secure the rights guaranteed by the Constitution for everyone equally under the law.

For this Bowman lecture, Sylvia Puente, Executive Director at the Latino Policy Forum, discussed the main finding of their report, Fuerza Latina: A Paradox of Success and Hardship, that Illinois Latinos are both succeeding and struggling at unprecedented levels. For example, as the number of "high-earning" Latino households in Illinois doubled, the number of Latino children living in poverty rose by 50%. While an unprecedented 90% of Illinois Latino children now have access to healthcare, two-thirds of Illinois Latinos are classified as obese. While Latinos accounted for half of the increase in owner occupied homes over the last decade, more than half are now applying an unsustainable 30% of their income towards housing costs. This bifurcation of our communities must be in the forefront of our work as we build an "Agenda for the Future."

Download the Fuerza Latina powerpoint presentation by Sylvia Puente.