Deadly Disparities and Covid: the Continuing Impacts on Black, Latinx, and Asian American Communities in Chicago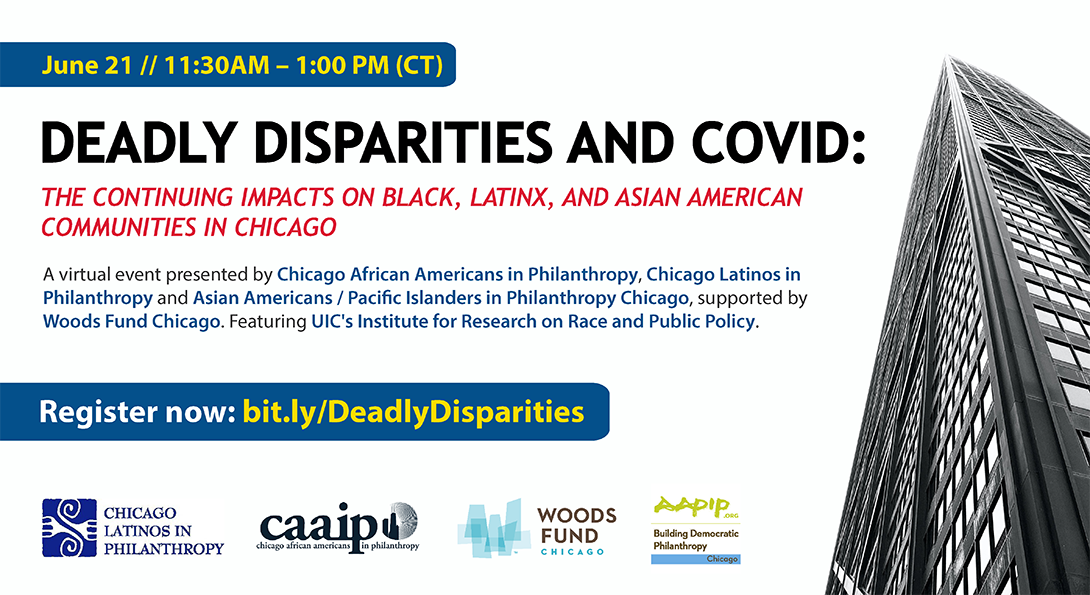 Legacies of Racism Event
About the event: Join Chicago African Americans in Philanthropy, Chicago Latinos in Philanthropy, Asian Americans / Pacific Islanders in Philanthropy, and Woods Fund Chicago for an event centering on the continuing impacts of the COVID-19 pandemic on Black, Latinx, and Asian American Communities in Chicago. This event will feature a presentation of the research on the continuing impact of COVID-19 for Chicagoan families by UIC researchers followed by a panel discussion from community based organizations who have been supporting our most impacted communities.
Event presenters are:
Claire Laurier Decoteau, Ph.D. is a UIC Sociology Professor. Broadly, her research focuses on the social construction of health and disease, the politics of knowledge production, and peoples' grounded experiences with healing and health care systems. Decoteau teaches undergraduate and graduate sociological theory as well as courses in the sociology of health and medicine at UIC and was the lead author in IRRPP's Covid-19 report.
Arturo Carrillo, PhD, LCSW is a licensed clinical social worker and Director of Violence Prevention and Neighborhood Health Initiatives at Brighton Park Neighborhood Council. He is a co-founder of Centro de Trabajadores Unidos: United Workers Center and has led the Collaborative for Community Wellness to research and document the inequity to access of mental health services throughout low-income communities throughout the city.
LaDarius Curtis is Senior Director of Community Engagement and Health at West Side United. He has over 15 years of community engagement experience, capacity building, and developing partnerships in Chicagoland communities, including as outreach coordinator for Senator Barack Obama and as the Healthy Communities Manager at Ann & Robert H. Lurie Children's Hospital of Chicago.
Richard Wallace is the founder and executive director of Equity and Transformation (EAT), a Chicago-based group that works with formerly incarcerated citizens. He is a community organizer and the former Deputy Director of the Workers Center for Racial Justice. His work focuses on organizing black workers to confront the impact of economic disparities in housing, education, and employment.
Jadhira Sanchez is Assistant Director of Community Health at Enlace Chicago. Enlace convenes, organizes, and builds the capacity of Little Village stakeholders to confront systemic inequities and barriers to economic and social access by working to foster a safe and healthy environment in Little Village and by championing opportunities for educational advancement and economic development.
Inhe Choi is the Executive Director of the HANA Center, which is a Chicago-area non-profit working to to meet the critical needs of Korean, Asian American, and multiethnic immigrant communities. The HANA Center works to build power towards systemic change through social services, education, culture, and community organizing to advance human rights.
About the series: Events in the Legacies of Racism Series deepen our understanding of the challenges and possibilities of policy efforts to address longstanding racial inequality. Legacies of Racism events build on the themes from our State of Racial Justice in Chicago reports and explore the recent and historic origins of racial and ethnic inequities and ask questions about what it means to try to repair systematic harm done to people and communities.
Modified on June 02, 2022