Dec
7
2022
Make Your Research Matter: Effective Ways to Work with Local Legislators
Policy 101
December 7, 2022
12:00 PM - 1:00 PM America/Chicago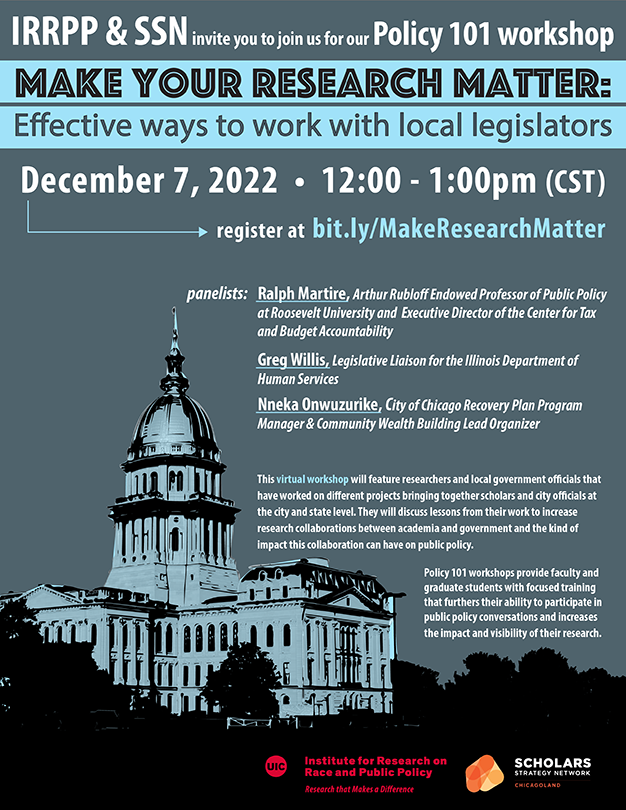 About the event: The Chicagoland chapter of the Scholars Strategy Network (SSN) and Institute for Research on Race and Public Policy are excited to co-host a virtual workshop featuring researchers and local government officials that have worked on different projects bringing together scholars and city officials at the city and state level. Panelists will discuss lessons from their work to increase research collaborations between academia and government and the kind of impact this collaboration can have on public policy.
Panelists are:
Ralph Martire, Arthur Rubloff Endowed Professor of Public Policy at Roosevelt University and Executive Director of the Center for Tax and Budget Accountability
Greg Willis, Legislative Liaison for the Illinois Department of Human Services
Nneka Onwuzurike, City of Chicago Recovery Plan Program Manager & Community Wealth Building Lead Organizer
For access needs or questions, please email us at irrpp@uic.edu.
About the Series: The goal of the Policy 101 Workshop Series is to increase the impact and visibility of UIC scholars' research. Policy 101 workshops provide UIC faculty and graduate students with focused training that increases their ability to participate in public policy conversations. Policy 101 workshops are taught by professionals and academics who are experts at translating academic research into policy-ready documents, policy presentations and civic engagement and will be offered bi-annually on a rotating basis.
RSVP here
Date updated
Nov 16, 2022