Oct
26
2022
Evidence in Action: Reducing Racial Wealth Gaps through Effective Support for Public Higher Education
Legacies of Racism
October 26, 2022
11:00 AM - 12:30 PM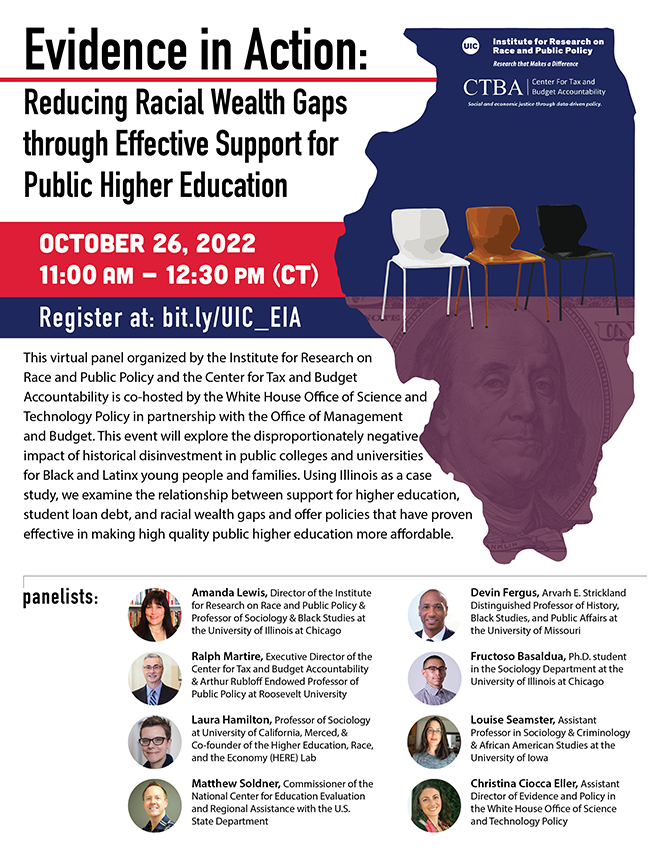 About the event: This virtual panel organized by the Institute for Research on Race and Public Policy at the University of Illinois at Chicago and the Center for Tax and Budget Accountability is co-hosted by the White House Office of Science and Technology Policy in partnership with the Office of Management and Budget. This panel on "Evidence in Action: Reducing Racial Wealth Gaps through Effective Support for Public Higher Education" will explore the disproportionately negative impact of historical disinvestment in public colleges and universities for Black and Latinx young people and families. Using Illinois as a case study, we will examine the relationship between support for higher education, student loan debt, and racial wealth gaps and offer policies that have proven effective in making high quality public higher education more affordable through reinvigorated state support and renewed federal support.
For all of the events in the White House "Year of Evidence for Action" series, follow this link. Events throughout the year will feature non-profits and academic organizations that have co-developed concrete strategies for mobilizing research-based evidence that can make life healthier, safer, more equitable, and more prosperous for the American public.
For access needs or questions, please email us at irrpp@uic.edu.
About the series: Events in the Legacies of Racism Series deepen our understanding of the challenges and possibilities of policy efforts to address longstanding racial inequality. Legacies of Racism events build on the themes from our State of Racial Justice in Chicago reports and explore the recent and historic origins of racial and ethnic inequities and ask questions about what it means to try to repair systematic harm done to people and communities.
Panelists are:
Amanda Lewis, Director of the Institute for Research on Race and Public Policy & Distinguished Professor of Black Studies and Sociology at the University of Illinois at Chicago.
Dr. Lewis' research focuses on how race shapes educational opportunities and on how our ideas about race get negotiated in everyday life. She is the author of several award-winning books including, with co-author John Diamond, Despite the Best Intentions: Why racial inequality persists in good schools (Oxford University Press, 2015), and Race in the Schoolyard: Negotiating the color-line in classrooms and communities (Rutgers University Press 2003). As Director of IRRPP, she has co-authored a number of reports as part of the State of Racial Justice in Chicago project chronicling the experiences and conditions of racial/ethnic groups in the city. Dr. Lewis lectures and consults regularly on issues of racial and educational equity and contemporary forms of racism.
Ralph Martire, Executive Director of the Center for Tax and Budget Accountability & Arthur Rubloff Endowed Professor of Public Policy at Roosevelt University.
Ralph Martire has helped CTBA obtain numerous legislative successes, including passage of the Evidence Based Model of Education Funding in FY2018, a state Earned Income Tax Credit, creation of a bipartisan legislative task force to integrate workforce and economic development policies, passage of the 2011 Temporary Tax Increases, and corporate accountability legislation that requires public reporting of economic development benefits created through receipt of tax breaks and other subsidies.
Laura Hamilton, Professor of Sociology at the University of California, Merced, & Co-founder of the Higher Education, Race, and the Economy (HERE) Lab.
Dr. Hamilton's award-winning books include: Paying for the Party: How College Maintains Inequality (Harvard University Press, 2015), Parenting to a Degree: How Family Matters for College Women's Success (University of Chicago Press, 2016), and most recently Broke: The Racial Consequences of Underfunding Public Universities (University of Chicago Press, 2021). She examines the ways that colleges and universities work to create and maintain racial, class, and gender inequities—and how to break these patterns.
Louise Seamster, Assistant Professor in Sociology and Criminology and African American Studies at the University of Iowa.
Dr. Seamster's research centers on the interactive financial and symbolic factors reproducing racial inequality. She writes about racial politics and urban development, emergency financial management, debt, and the myth of racial progress. Her current book project investigates the financial and political causes of the Flint Water Crisis. Another line of research examines racial disparities in debt and debt markets, including "predatory inclusion" in student debt, and the different meaning of debt for black and white families. Her work on "predatory inclusion" has led to extensive policy advocacy.
Devin Fergus, Arvarh E. Strickland Distinguished Professor of History, Black Studies, and Public Affairs at the University of Missouri.
Dr. Fergus' research focuses on race, political economy, and inequality in modern America. His most recent book, Land of the Fee: Hidden Costs and the Decline of the American Middle Class (Oxford University Press, 2019) has been called one of the five best books for understanding capitalism today. Professor Fergus has presented his research to numerous federal agencies, financial institutions, and international bodies. He has written widely on policy, political economy, and inequality for the New York Times, Washington Post, and the Guardian, among other outlets.
Fructoso Basaldua, Graduate Student in Sociology at UIC
Fructoso Basaldua is a 3rd year PhD student in the Sociology department at the University of Illinois at Chicago. Fructoso is broadly interested in studying racial inequalities. He is currently studying the intersections and connections between the privatization of public higher education, student loan debt, and racial wealth inequality. Fructoso is also interested in studying the construction and impact of legal-status restrictions to public assistance in the U.S.
Matthew Soldner, Commissioner of the National Center for Education Evaluation and Regional Assistance with the U.S. Department of Education.
Dr. Soldner's expertise includes the design and implementation of complex, mixed-methods evaluations; innovative practices designed to improve student outcomes after high-school; postsecondary competency-based education; federal financial aid; and federal statistical policy and practice. His Ph.D. is from the University of Maryland's College of Education.
Christina Ciocca Eller, Assistant Director of Evidence and Policy in the White House Office of Science and Technology Policy and Assistant Professor of Sociology and Social Studies at Harvard University.
Dr. Eller currently serves in the Biden Administration as Assistant Director of Evidence and Policy in the White House Office of Science and Technology Policy. A scholar of institutions, organizations, and social inequality, her research uses both qualitative and quantitative methods to address these topics—especially in the context of U.S. higher education.
Register here
Date updated
Oct 24, 2022