Feb
24
2021
Chicago's Racial Wealth Gap
Legacies of Racism
February 24, 2021
6:00 PM - 7:30 PM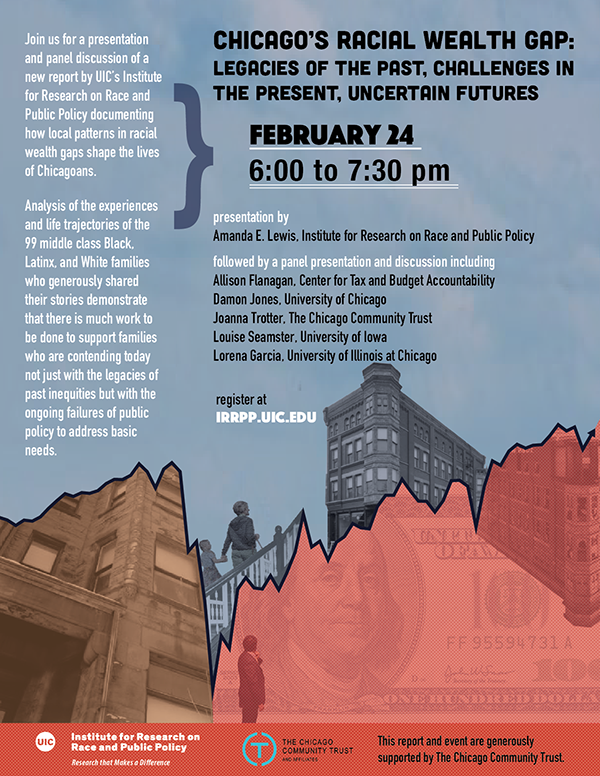 About the event: Join us for a presentation and panel discussion of a new IRRPP report Chicago's Racial Wealth Gap: Legacies of the Past, Challenges in the Present, Uncertain Futures documenting how local patterns in racial wealth gaps shape the lives of Chicagoans. In this report we learn from the life experiences of middle class Black, Latinx, and White families that there is much work to be done to support families, many of whom are contending today not just with the legacies of past inequities but with the ongoing failures of public policy to address basic needs.
Panelists are: Amanda E. Lewis (UIC), Allison Flanagan (Center for Tax and Budget Accountability), Damon Jones (University of Chicago), Joanna Trotter (The Chicago Community Trust), Louise Seamster (University of Iowa), and Lorena Garcia (UIC).
About the series: Events in the Legacies of Racism Series deepen our understanding of the challenges and possibilities of policy efforts to address longstanding racial inequality. Legacies of Racism events build on the themes from our State of Racial Justice in Chicago reports and explore the recent and historic origins of racial and ethnic inequities and ask questions about what it means to try to repair systematic harm done to people and communities.
RSVP
Date updated
Feb 16, 2021