Panel Discussion: Campaign for Treatment Not Trauma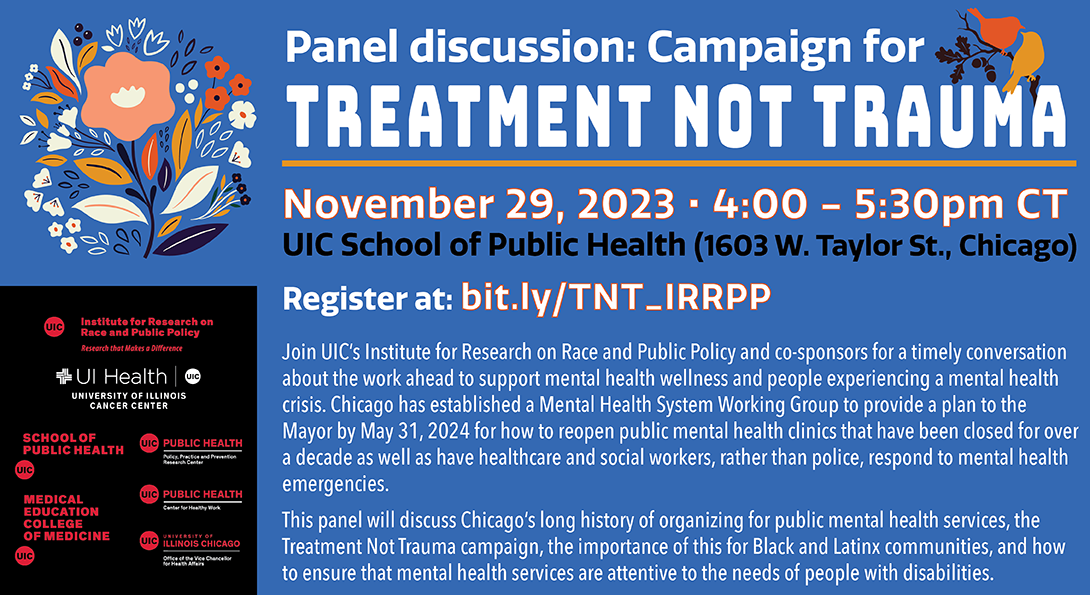 Embodied Inequalities Event
About the event:
Join UIC's Institute for Research on Race and Public Policy and co-sponsors in person or online for a timely conversation about the work ahead to support mental health wellness and people experiencing a mental health crisis. Chicago has established a Mental Health System Working Group to provide a plan to the Mayor by May 31, 2024 for how to reopen public mental health clinics that have been closed for over a decade as well as have healthcare and social workers, rather than police, respond to mental health emergencies. This panel will discuss Chicago's long history of organizing for public mental health services, the Treatment Not Trauma campaign, the importance of this for Black and Latinx communities, and how to ensure that mental health services are attentive to the needs of people with disabilities.
Panelists Include:
Arturo Carrillo, Deputy Director of Health & Violence Prevention, Brighton Park Neighborhood Council
Cheryl Miller, Public-Health Organizer, Southside Together Organizing for Power
Jessica Gimeno, Mental Health Policy Analyst, Access Living
Rossana Rodríguez-Sanchez, Chicago Alderwoman for the 33rd Ward
Kathryn Bocanegra, Assistant Professor, UlC Jane Addams School of Social Work
(moderator) Brenikki Floyd, Associate Dean for Community Engagement, UIC School of Public Health
Registration is required for the event. Please click on the RSVP button below to register to attend in person or virtually for the event.
About the series: The Embodied Inequality: Unpacking the Impact of Race & Racism on Health series builds on important work documenting extensive health disparities. This interdisciplinary lecture series explores why race is so consequential for health outcomes and how scholars, practitioners, and community groups can intervene to improve health outcomes for vulnerable communities.
The Annual Joseph S. Begando Keynote Lecture sponsored by the Department of Medical Education brings distinguished scholars in the Health Humanities to the UIC community to explore pressing social issues relating to health, medicine, disability, and illness.
Modified on November 23, 2023