Reproductive Injustice: Racism, Pregnancy, & Premature Birth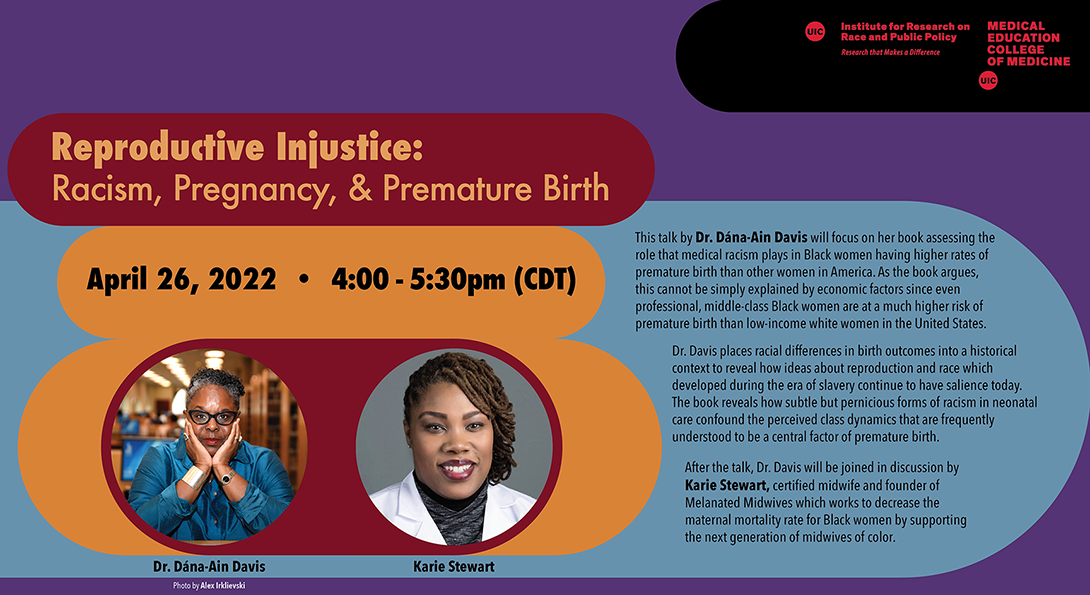 Embodied Inequalities Event
About the event: This talk by Dr. Dána-Ain Davis will focus on her book Reproductive Injustice: Racism, Pregnancy, and Premature Birth assessing the role that medical racism plays in Black women having higher rates of premature birth than other women in America. As the book argues, this cannot be simply explained by economic factors since even professional, middle-class Black women are at a much higher risk of premature birth than low-income white women in the United States.
Dr. Davis places racial differences in birth outcomes into a historical context to reveal how ideas about reproduction and race which developed during the era of slavery continue to have salience today. The book reveals how subtle but pernicious forms of racism in neonatal care confound the perceived class dynamics that are frequently understood to be a central factor of premature birth.
After the talk, Dr. Davis will be joined in discussion by Karie Stewart, certified midwife and founder of Melanated Midwives which works to decrease the maternal mortality rate for Black women by supporting the next generation of midwives of color.

About the series: The Embodied Inequality: Unpacking the Impact of Race & Racism on Health series builds on important work documenting extensive health disparities. This interdisciplinary lecture series explores why race is so consequential for health outcomes and how scholars, practitioners, and community groups can intervene to improve health outcomes for vulnerable communities.
The Annual Joseph S. Begando Keynote Lecture sponsored by the Department of Medical Education brings distinguished scholars in the Health Humanities to the UIC community to explore pressing social issues relating to health, medicine, disability, and illness.
Modified on March 11, 2022