Deadly Disparities in the Days of COVID-19: How Public Policy Fails Black & Latinx Chicagoans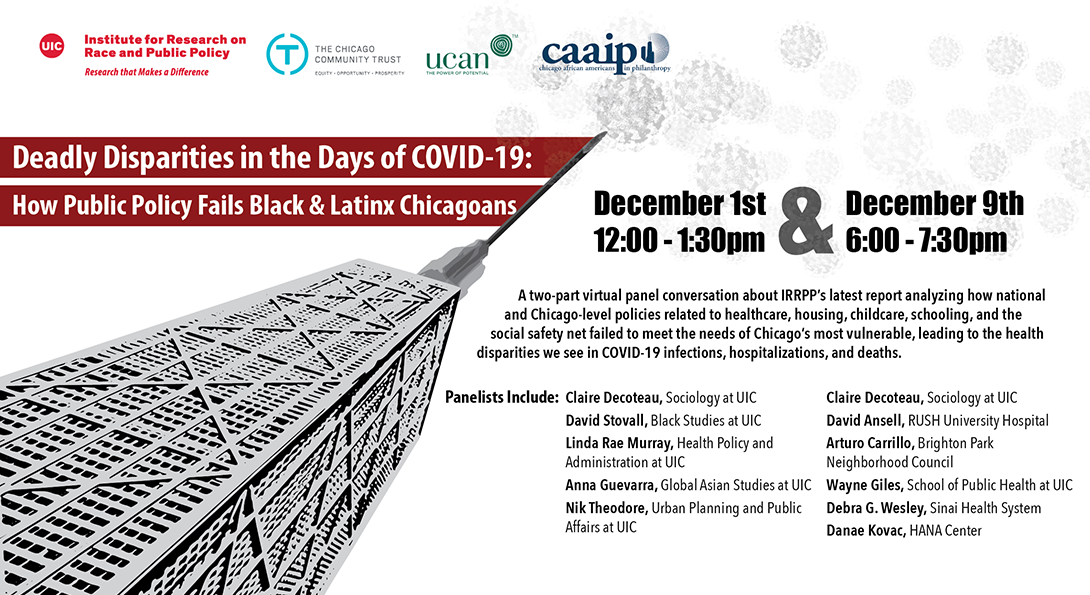 Legacies of Racism Event
About the event: Join IRRPP and co-sponsors The Chicago Community Trust, UCAN Chicago, and Chicago African Americans in Philanthropy for a two-part virtual panel conversation about our latest report "Deadly Disparities in the Days of COVID-19: How Public Policy Fails Black & Latinx Chicagoans" analyzing how national and Chicago-level policies related to healthcare, housing, childcare, schooling, and the social safety net failed to meet the needs of Chicago's most vulnerable, leading to the health disparities we see in COVID-19 infections, hospitalizations, and deaths.
Panelists for December 1st include: Claire Decoteau (Sociology at UIC), Dave Stovall (Black Studies & Criminology, Law and Justice at UIC), Linda Rae Murray (Health Policy and Administration at UIC), and Nik Theodore (Urban Planning and Policy at UIC).
Panelists for December 9th include: Claire Decoteau (Sociology at UIC), David Ansell (RUSH University Hospital), Arturo Carrillo (Brighton Park Neighborhood Council), Wayne Giles (School of Public Health at UIC), Debra G. Wesley (Sinai Health System), and Danae Kovac (HANA Center).
About the series: Events in the Legacies of Racism Series deepen our understanding of the challenges and possibilities of policy efforts to address longstanding racial inequality. Legacies of Racism events build on the themes from our State of Racial Justice in Chicago reports and explore the recent and historic origins of racial and ethnic inequities and ask questions about what it means to try to repair systematic harm done to people and communities.
About the panelists:
David Ansell, MD, MPH, is Rush's first leader of community health equity. David Ansell leads Rush's strategy to be a catalyst for community health and economic vitality on Chicago's West Side. He previously was Rush's senior vice president, system integration. Ansell joined Rush in 2005 as the Medical Center's first chief medical officer (CMO) — a position he held until 2014 — as well as the associate dean and senior vice president for clinical affairs and the Michael E. Kelly MD Presidential Professor at Rush Medical College.
Claire Laurier Decoteau, Ph.D., received her PhD in Sociology from the University of Michigan (2008). Broadly, her research focuses on the social construction of health and disease, the politics of knowledge production, and peoples' grounded experiences with healing and health care systems. Decoteau teaches undergraduate and graduate sociological theory as well as courses in the sociology of health and medicine in Sociology at UIC.
Wayne Giles, MD, MS, became the Dean of the School of Public Health at the University of Illinois at Chicago (UIC) in September 2017. Prior to joining UIC, he spent 25 years at the Centers for Disease Control and Prevention (CDC) where he led the Division for Heart Disease and Stroke Prevention, the Division of Population Health and the Division of Adult and Community Health. His portfolio at the CDC included running one of the organization's most diverse divisions with programmatic and research activities in community health promotion, arthritis, aging, health care utilization, school health and racial and ethnic disparities in health.
Danae Kovac currently works as the Deputy Director at HANA Center, a Chicago-area community-based non-profit working to meet the critical needs of Korean, Asian American, and multiethnic immigrant communities and build power toward systemic change. As Deputy Director, Danae provides leadership in shaping HANA's strategic vision and oversees operations and programs to strengthen HANA's delivery on its mission. Danae has over 15 years of non-profit experience in operations, fundraising, and program management. She currently serves on the Leadership Board of National Immigrant Justice Center and as an Advisory Board member of Korean Adoptees of Chicago (KAtCH).
Linda Rae Murray, M.D. MPH, has spent her career serving the medically underserved. She has worked in a variety of settings including practicing Occupational Medicine at a Workers Clinic in Canada, Residency Director for Occupational Medicine at Meharry Medical College, and Bureau Chief for the Chicago Department of Health under Mayor Harold Washington. In November 2010, Dr. Murray became President of the American Public Health Association. She has been a voice for social justice and health care as a basic human right for over forty years.
David Stovall, Ph.D., is a professor in the departments of Black Studies and Criminology, Law & Justice at the University of Illinois at Chicago (UIC). His scholarship investigates three areas 1) Critical Race Theory, 2) the relationship between housing and education, and 3) the intersection of race, place and school. In the attempt to bring theory to action, he works with community organizations and schools to address issues of equity, justice and abolishing the school/prison nexus.
Nik Theodore, Ph.D., is the department head of UIC's Department of Urban Planning and Policy. His work focuses on economic restructuring, labor standards, and worker organizing. His research has been published in numerous economics, public policy, and urban studies journals, and his research on employment issues has been featured in the New York Times, Wall Street Journal, Time,and other news outlets. Prior to joining UIC he was an Atlantic Fellow in Public Policy at the University of Manchester (England). He is also an editor of Antipode: A Radical Journal of Geography.
Debra G. Wesley is a social entrepreneur, leader and community builder, as well as founder of Sinai Community Institute (SCI), where she serves as president. SCI is a health system-based social services organization with 25 programs and over 25,000 clients per year. She is also Sinai Health System's executive vice president for community outreach.
Arturo Carrillo, PhD, LCSW, is a licensed clinical social worker and Director of Violence Prevention and Neighborhood Health Initiatives at Brighton Park Neighborhood Council. He is a co-founder of Centro de Trabajadores Unidos: United Workers Center and has led the Collaborative for Community Wellness to research and document the inequity to access of mental health services throughout low-income communities throughout the city.
Modified on December 09, 2021