Bowman Lecture with Shawn Ginwright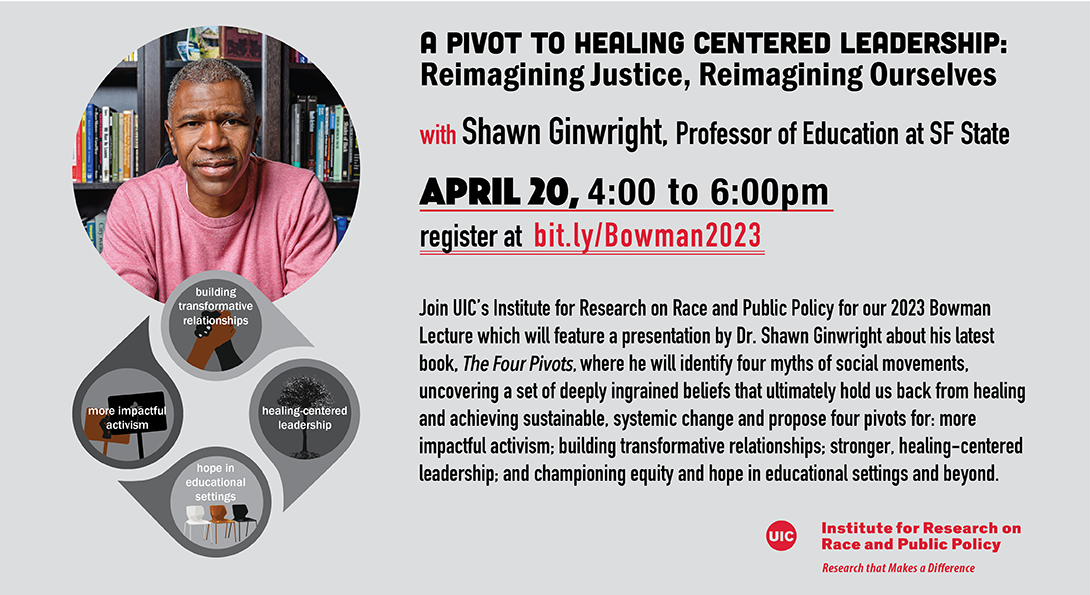 Bowman Lecture
About the event: Join us for our 2023 Bowman Lecture by Dr. Shawn Ginwright where he will identify four myths of social movements, uncovering a set of deeply ingrained beliefs that ultimately hold us back from healing and achieving sustainable, systemic change. He will share why these frames won't work and instead, propose four pivots for: more impactful activism; building transformative relationships; stronger, healing-centered leadership; and championing equity and hope in educational settings and beyond.
Registration is required for the event. Please use the link below to access our event page and register for the Bowman Lecture with Dr. Ginwright.
After the talk, there will be a reception where Dr. Ginwright's new book The Four Pivots will be available for purchase.
For access needs or questions, please email us at irrpp@uic.edu.
Shawn Ginwright, PhD, is a leading innovator, provocateur and thought leader on African American youth, youth activism and youth development. He is a professor of education in the Africana Studies Department and a senior research associate at San Francisco State University. He is also the founder and chief executive officer of Flourish Agenda, Inc., a research lab and consulting firm whose mission is to design strategies that unlock the power of healing and engage youth of color and adult allies in transforming their schools and communities. Dr. Ginwright's new book is The Four Pivots: Reimagining Justice, Reimagining Ourselves. You can learn more about his work, research, and advocacy at www.ShawnGinwright.com.
About the series: This lecture was established to honor Phillip J. Bowman's contributions to UIC during his tenure as Director of IRRPP and Professor of African American Studies. It features national scholars of race, ethnicity, and public policy who provide timely analysis of issues of critical importance to the field and to communities of color.
Modified on April 25, 2023