Mar
29
2022
Disinvestment in Illinois Higher Education is a Racial Justice Issue
Legacies of Racism
March 29, 2022
4:00 PM - 5:30 PM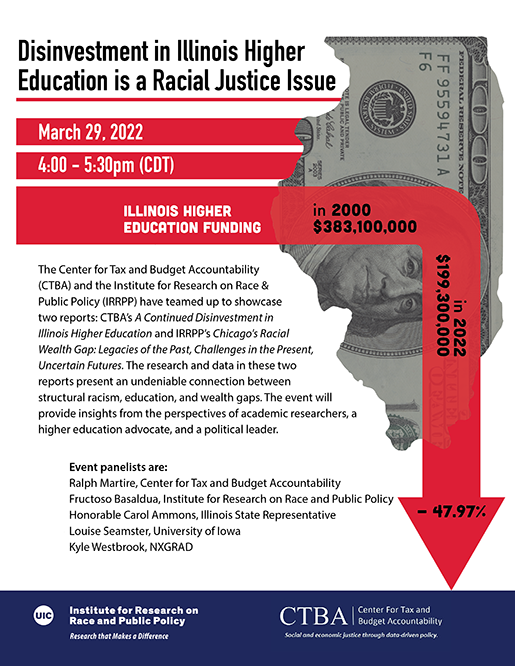 About the event: The Center for Tax and Budget Accountability (CTBA) and the Institute for Research on Race & Public Policy (IRRPP) have teamed up to showcase two reports: CTBA's A Continued Disinvestment in Illinois Higher Education and IRRPP's Chicago's Racial Wealth Gap: Legacies of the Past, Challenges in the Present, Uncertain Futures. The research and data in these two reports present an undeniable connection between structural racism, education, and wealth gaps. The event will provide insights from the perspectives of academic researchers, a higher education advocate, and a political leader.
About the series: Events in the Legacies of Racism Series deepen our understanding of the challenges and possibilities of policy efforts to address longstanding racial inequality. Legacies of Racism events build on the themes from our State of Racial Justice in Chicago reports and explore the recent and historic origins of racial and ethnic inequities and ask questions about what it means to try to repair systematic harm done to people and communities.
Date updated
Apr 14, 2022
Speakers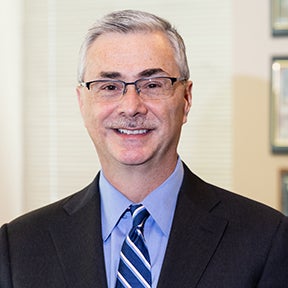 Ralph Martire
|
CTBA Executive Director and Arthur Rubloff Endowed Professor of Public Policy at Roosevelt University
Ralph Martire has helped CTBA obtain numerous legislative successes, including passage of the Evidence Based Model of Education Funding in FY2018, a state Earned Income Tax Credit, creation of a bipartisan legislative task force to integrate workforce and economic development policies, passage of the 2011 Temporary Tax Increases, and corporate accountability legislation that requires public reporting of economic development benefits created through receipt of tax breaks and other subsidies.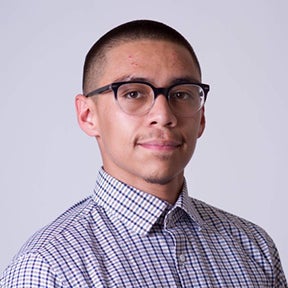 Fructoso Basaldua
|
Graduate Student in Sociology at UIC
Fructoso Basaldua is a 3rd year PhD student in the Sociology department at the University of Illinois at Chicago. Fructoso is broadly interested in studying racial inequalities. He is currently studying the intersections and connections between the privatization of public higher education, student loan debt, and racial wealth inequality. Fructoso is also interested in studying the construction and impact of legal-status restrictions to public assistance in the U.S.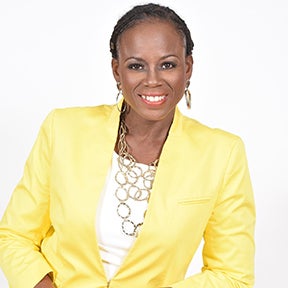 Honorable Carol Ammons
|
State Representative for the 103rd District
The Honorable State Representative Carol Ammons is serving her fourth term representing the 103rd District. Rep. Ammons is a career activist fighting for equality and justice. She is the first African-American woman elected to the 103rd District and is now the voice and advocate of her constituents in Champaign-Urbana and throughout Illinois. While in office, Representative Ammons has dedicated her time and energy toward helping her district and the state pass monumental legislation.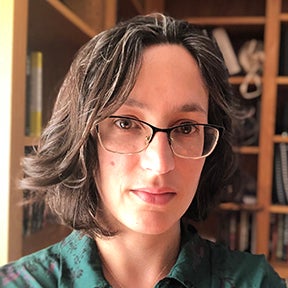 Louise Seamster
|
Assistant Professor in Sociology & Criminology and African American Studies at the University of Iowa
Dr. Seamster's research centers on the interactive financial and symbolic factors reproducing racial inequality. She writes about racial politics and urban development, emergency financial management, debt, and the myth of racial progress. Her current book project investigates the financial and political causes of the Flint Water Crisis. Another line of research examines racial disparities in debt and debt markets, including "predatory inclusion" in student debt, and the different meaning of debt for black and white families. Her work on "predatory inclusion" has led to extensive policy advocacy.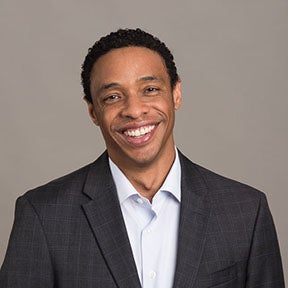 Kyle Westbrook
|
Founder of NXGRAD
Kyle Westbrook is the Founder of NXGRAD, a forthcoming college application platform for the 21st century. Previously he was the Founding Executive Director of the Partnership for College Completion (PCC). Before being named founding executive director of PCC he served as the Executive Director of Education Policy in the Office of Mayor Rahm Emanuel. Kyle has extensive experience in public education having spent 20 years in public education as a teacher, teacher leader, leadership consultant, and district level administrator.