Apr
21
2021
Disability as Disposability: AIDS, COVID, and the Manufacturing of a Viral Underclass
Embodied Inequalities
April 21, 2021
3:00 PM - 4:30 PM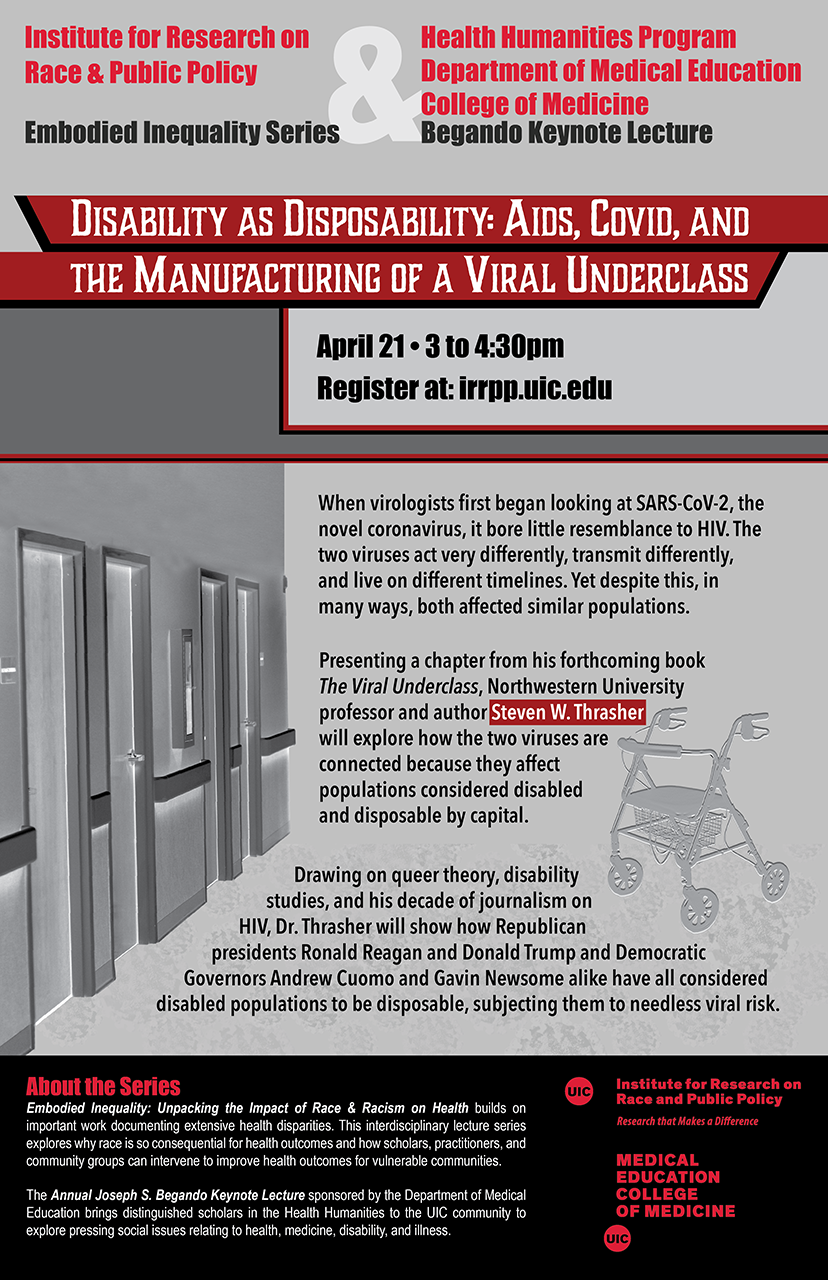 About the event: When virologists first began looking at SARS-CoV-2, the novel coronavirus, it bore little resemblance to HIV. The two viruses act very differently, transmit differently, and live on different timelines. Yet despite this, in many ways, both affected similar populations.
Presenting a chapter from his forthcoming book The Viral Underclass, Northwestern University professor and author Steven W. Thrasher will explore how the two viruses are connected because they affect populations considered disabled and disposable by capital.
Drawing on queer theory, disability studies, and his decade of journalism on HIV, Dr. Thrasher will show how Republican presidents Ronald Reagan and Donald Trump and Democratic Governors Andrew Cuomo and Gavin Newsom alike have all considered disabled populations to be disposable, subjecting them to needless viral risk.

About the series: The Embodied Inequality: Unpacking the Impact of Race & Racism on Health series builds on important work documenting extensive health disparities. This interdisciplinary lecture series explores why race is so consequential for health outcomes and how scholars, practitioners, and community groups can intervene to improve health outcomes for vulnerable communities.
The Annual Joseph S. Begando Keynote Lecture sponsored by the Department of Medical Education brings distinguished scholars in the Health Humanities to the UIC community to explore pressing social issues relating to health, medicine, disability, and illness.
RSVP
Date updated
Apr 28, 2021